Producer: Yash Johar
Director: Karan Johar
Starring: Amitabh Bachchan, Jaya Bachchan, Shah Rukh Khan, Kajol, Hrithik Roshan, Kareena Kapoor, Asha Sachdev, Alok Nath
Music: Jatin-Lalit, Sandesh Shandilya, Aadesh Shrivastava
Lyrics: Sameer, Anil Pandey
Singers: Lata Mangeshkar, Alka Yagnik, Kavita Subramanium, Udit Narayan, Sonu Nigam, Amit Kumar, Sudesh Bhonsle, Sunidhi Chauhan
Audio on: Sony Music
Number of Songs: 11
Reviewed by: Rakesh Budhu
Reviewer's Rating: 8.0 out of 10

---
Don't even bother comparing it to any other film. Kabhi Khushi Kabhie Gham is clearly in a league of its own. Compiling the best of the best of "Then Now and Forever" (as the film's line says), Karan Johar should without a doubt hit gold with this one. So when the soundtrack released in its complete version last week it is no surprise that it sold copies by the millions on that day alone.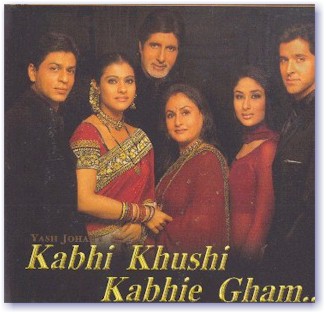 It's quite obvious that with the star cast alone this soundtrack will pass off with flying colors, much like any other massive star cast film. So why bother comparing it to classics soundtracks like Taal, Dil Se, Dilwale Dulhania Le Jayenge, Dil To Pagal Hai? It is quite safe to say that wherever this soundtrack may not score on, the film itself will make up for it (or at least we hope so). One can be pretty satisfied with the soundtrack, especially since not Karan Johar, Yash Johar or any one related to the film boosted the prospects of the film by declaring it's immense superb-ness as Malik and Ghai did with Yaadein. This soundtrack is not superb, but there is a sense of enjoyability that does indeed make the anticipation to the 14th of December quite high.
Lata Mangeshkar's aged voice opens up the soundtrack. Yes, it is quite obvious that it is not the same voice of the nightingale we heard twenty years ago, but there is definitely evidence that Jatin Lalit could have done just a tad bit more to extract something slightly softer from her. Don't get me wrong, it's an awesome tune she's singing but when you compare to this year's "So Gayee" from Zubeeida and "O Palanahare" from Lagaan, you can see that age doesn't always detract from the quality of her voice. Back to our title tracks, Sameer obviously put some thought into this "bhajan" theme title track. "Yeh Ghar Nahee Hai Mandir Hai Tera" is probably what stood out more, but it reminded me of some of the lyrics he penned for the other massive star cast-family film Ek Rishtaa- the Bond of Love. Jatin-Lalit have done a decent job here. Not really amazing, but the musical interludes, specifically the second one, show that they are trying to change some trends. Perhaps the familiarity lies in the chorus. When you hear people, well critics, stating that it's just another Mohabbatein, or DDLJ, you have to realize, it's the same chorus singing for these films. Why criticize it, rather, think about what a Johar or Chopra film would be without that chorus filled tune?
You may want to skip the sad versions of the title track, they are quite sad and Lata doesn't exceed her vocales in the original version. Sonu Nigam's does an apt job but nowhere near the tunes he gave us in Refugee. Sameer doesn't go anywhere here. If you hear Sonu singing, "Hum Paas Hai Kitne Hai Dooriyan", you will probably remember that Alka was singing the same thing in "'Dil Ne Yeh Kaha Hai Dil Se" from Dhadkan (I've listened to that soundtrack so much I couldn't help memorize the lyrics).
Now on to the good stuff. Melody, singing, meaningful lyrics, sweet music that just makes you want to pump up the volume. That is an understatement when describing, "Suraj Hua Maddham", Anil Pandey doing the lyrics and Sandesh Shandilya's emphatic love song set for Shah Rukh and Kajol. As if the song wasn't good enough just imagine what the Egypt locales will do in making this a treat! The instrumentalism, specifically the low toned dholak tunes and the repetition so excellently done by Sonu Nigam and Alka Yagnik of "Sajana…Kya Yeh Mera Pehla, Pehla Pyar Hai?" is just proof that this is the best song on the soundtrack and enough to pick it up as well. Oh, and of course, the irresistible chorus singing the tunes of Kuch Kuch Hota Hai just makes one want to stick that CD back into the CD player once again.
The instrumental track, "Soul of Kabhi Khushi Kabhie Gham" isn't much of a groundbreaker, definitely nothing compared to what Jatin-Lalit did with the "'Rhythms of Mohabbatein" and "Mohabbatein Theme," but the shlokas in the middle of the piece set a theme. After all, "thou art my mother, thou art my father" is the foundation of the film and Johar's (or Sandesh´s for that matter) use of irony in using the famous prayer is quite clear.
The "Vande Mataram" sung by Usha Uthap seems out of place and more like a filler. It's still worth a listen and does serve its purpose in placing you in a patriotic mood.
Sandesh Shandilya moves down a notch from awesome to decent in "You Are My Sonia" and "Deewana Hai Dekho". Alka Yagnik and Sonu Nigam sound like they are having the time of their lives in these tunes which are supposed to be pictured on Hrithik and Kareena. Kareena even lends her vocales with "what-ever" and my favorite "who does he think he is?" Ok so this isn't musical delight, but I found it quite a fun track to listen to and the fact remains that this will probably be another visual treat, at least for entertainment. It is obvious that Johar, Shandilya and Sameer were quite aware of that which is why they are pretty sure that they can get away with including it on the soundtrack.
"Bole Chudiyan" has Jatin Lalit using their Chopra/Johar music bank, but you got to remember that it may be similar styles but it is still quite enjoyable. "Lehja Lehja" will probably be on your tongue a long time after you turn the CD off and you will remember the consensus of the male and female voices in those designated portions of the song. The Punjabi lyrics seem pretty mediocre. Alka sounds mediocre here, Sonu sounds decent, and Udit is the best out of them all. Kavita does a good job as well with her short interludes and her ending off with the lyrics for the first part of the title track. One can't quite figure out though if her voice is designated for Jaya here (one would hope they aren't using her young vocales for her) or Rani Mukherji, the guest star. Amit Kumar doesn't really sound as well as other aged male voices; they should have simply used Bachchan's vocales. That all aside this song is a chart-buster simply put.
Shaadi songs are a must with these films and of course, from the "Saajanji Ghar Aayee" tunes to "Mehendi Lagake Rakhana"; we have the third shaadi song to join the group, "Yeh Ladka Hai Allah." Aside from the obvious relations to the previous songs this song is absolutely perfect to set the mood for a wedding celebration. Lyrics are decent and the title of the track is already copied from an eighties hit (Hum Kisi Se Kum Nahin). Udit and Alka seem to be having fun here as well, they don't sound awesome, but Jatin Lalit have done justice to the song by choosing them to sing it. The first interlude gives a distinct qawaali feel but doesn't do much for the song completely. The best part of this song is the second interval when we are once again embraced with "Sajana…." and an instrumental piece from "Suraj Hua Maddham."
The much-talked about Aadesh Shrivastava guest composition is quite enjoyable but it is kind of weird to hear the Punjabi lyrics sung so romantically. The lyrics from Sameer aren't that great too, the song in its entirety is not Punjabi in style and the lyrics aren't either. Sudesh Bhonsle sounds so much like Bachchan we wonder why he doesn't sing the song himself (Again!) after all, he does come in to say, "Everybody say, Shava Shava." This song still remains a chart-buster because of the enjoyable beats and excellent singing from Udit and Alka. Somehow Sunidhi and Aadesh Shrivastava whose voices are attributed to the song on the label get lost in the track.
So, we've all been waiting for it, now it's here. It's not as disappointing as we all heard it was. It's quite enjoyable. You can't help but like this soundtrack, if not for the fact that it's a Johar film, if not for the fact that the film stars Kajol (After a year!), Kareena Kapoor, Hrithik Roshan, Shah Rukh Khan, Jaya Bachchan, Amitabh Bachchan and even Rani Mukherji, but at least for "Suraj Hua Maddham" alone.