Producer: Boney Kapoor
Director: Vinay Shukla
Starring: Esha Deol, Aftab Shivdasani, Sanjay Kapoor
Music: Rajesh Roshan
Lyrics: Suryabhanu Gupt, Ibrahim Ashk, and Dev Kohli
Singers: Udit Narayan, Sonu Nigam, Hema Sardesai, Shaan, Pamela Jain, Preeti Uttam and Kamaal Khan
Audio on: Tips
Number of Songs: 9
Reviewed by: Anish Khanna
Reviewer's Rating: 7.5 out of 10

---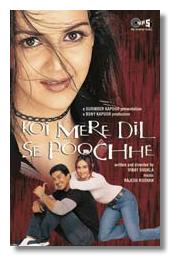 The much-anticipated debut film of the crown-princess of Bollywood (not Kareena; the OTHER one), Esha Deol, is on the verge of release. And she is reported to have chosen a rather unconventional, "different" debut film. So is the music something different in keeping with the film? Actually, no. However, this is probably one of the better romantic soundtracks weīve heard this year. Rajesh Roshan has the incredible task of living up to the "KNPH" magic and he tries hard to meet the challenge (minus Lucky).
Udit Narayan is a delight here. His soft rendition of the title song is beautiful despite the at times "off" arrangement of the number. But with Udit dancing ever so carefully over Ibrahim Ashkīs lyrics, one can hardly ask for more. He is joined by Pamela Jain who sounds like the ghost of Sanjeevani. Uditīs other number - "Deewana Tera Hai" - is the typical aashiq wooing the girl number made atypical by a catchy tune and Udit himself.
"Mat Ho Udhas" has Shaan in his romantic element we saw in "Tune Mujhe Pechaana Nahin" ("Raju Chacha"). This seems to be the genre of song emerging as his forte and he fortifies it with this number. Pamela Jain, again, is not as impressive unless you are a big Sanjeevani fan. Perhaps her voice suits Esha, you wonder?
Pamela Jain tries to redeem herself with "Hanse Tim Tim" and she does to an extent. She seems much more comfortable in this dark-toned lori song, and actually gave me hints of Asha while she sings the title line (it doesnīt sustain in the interludes, however).
Whatīs a film without a shaadi song? And here you have "Kehti Hain Mangni Ki Angoothi" by Preeti Uttam, which will most likely be a vehicle to display the heroineīs dancing talents. This is your run-of-the-mill wedding song that will probably find a life outside the film at weddings.
After "Oh Oh Jaane Jaana", Kamaal Khan has had a difficult time finding his musical niche. Maybe itīs because of inane songs like "Lapak Japak". How I miss Lucky... This ainīt no "Ek Pal Ka Jeena" for sure! Thank Suryabhanu Gupt for this pathetic attempt at lyric writing.
I very much liked "Aawara Main Baadal" despite the "KNPH" title song hangover. Sonu Nigam breezes through the number like a pro, but I have always and still do have trouble with Hema Sardesaiīs often airy vocals. Sonuīs other number - "Tera Bhalla Kare Bhagwan" - is passable but nothing earth-shattering.
All in all - this is the type of album that will neither bring down the film nor promote it. Rather - it will need good visuals and an overall good production to boost the albumīs sales. And with the lovely Esha Deol dancing on screen for the first time, will that really be difficult?