Producer: Rajkumar Santoshi
Director: Rajkumar Santoshi
Starring: Manisha Koirala, Madhuri, Mahima, Rekha, Anil Kapoor, Ajay Devgun & Jackie Shroff. Sp. App. Sonali, Urmila
Music: Anu Malik, Ilyaraja
Lyrics: Sameer, Prasoon Joshi
Singers: Anuradha Sriram, Sonu Nigam, Alka Yagnik, Richa Sharma, Anuradha Paudwal, K.K., Shubha Mudgal & Lata Mangeshkar
Audio on: Universal
Number of Songs: 8
Reviewed by: Avinash Ramchandani
Reviewer's Rating: 5 out of 10

---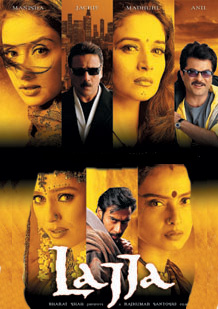 This film has a name with less letters than big names starring in the movie, if you count the director, there is one more than double the number of letters in the movie name. Lets name off the women to start off: Madhuri, Mahima, Manisha, Rekha, and Sonali & Urmila with special appearances. And the men: Anil, Ajay & Jackie. You would think that now-a-days (meaning post DDLJ and HAHK) the more words in a movie title, the more stars in it (for example, LKLKBK starring Saif, Aftab, Fardeen, Twinkle, Sonali and not to mention Johnny), but it seems like Rajkumar Santoshi wants to start the reverse trend. Anu Malik obviously hasn't with the music, though.
Even with Ilyaraja's help, Malik disappoints in this album. After the splendid success he has had this year, like Mujhe Kucch Kehna Hai, Aks, etc… he has disappointed with his latest music composition, including the Subhash Ghai directed Hritik starrer, Yaadein. Even Aks has a little bit of tiredness written all over the album. Yes, Anu Malik tried in this album as well as the rest that he has composed this year, but there is only a certain amount of effort a composer can put in after making many albums at one time.
The album starts off slowly "Aa Hi Jaiye" sung by Anuradha Sriram. Anuradha Sriram delivers words with a scratchy, screechy voice. How about pop music Ms. Sriram? The lyrics are nothing special either. And therefore, the song is below average. Not a good way to start off.
The second song on the album is a bit better "Saajan Ke Ghar Jaana Hain". Repeated a second time as the seventh song in the album, both versions have a traditional mix of music, which is quite pleasing. Alka Yagnik is the story of the song—she is brilliant. Her pronunciations, as always, are vividly clear and her voice sounds trained as her highs and lows perfectly match the melody. Sonu Nigam has a short appearance in the song as he did in "Ishq Bina" from "Taal". Richa Sharma's voice puts a little bit of variation in the song.
"Kaliyug Ki Sita" a slow piece sung by Anuradha Paudwal and Shubha Mudgal on separate tracks is a boring song with standard Border-ish Anu Malik music. Mudgal's voice is more suited for the song, but the song is still nothing to chatter about.
KK makes an appearance in "Jiyo Jiyo". No I don't mean Kavita Krishnamurti, I mean KK. The music is quite western and fast, not a bad job by Malik this time. KK and the chorus are both suited well for the song. But still, the song isn't anything too brilliant, just average fare.
"Badi Mushkil" by Alka Yagnik is an average song again. The music is a drawback but Yagnik is great. They mix and its average fare again.
Finally we get to the part everybody was waiting for, the Lata Mangeshkar song, ala Pukar. But, this time its not AR Rahman, its Ilyaraja as music director and Prasoon Joshi as lyricist. Maybe I give more credit to AR Rahman, but the song sounds similar to "Ek Tu Hi Bharosa." Lata is at her best as always, but she is not the same as she was 10 years ago. Again, average fare.
Overall, this album is average fare, therefore the rating 5/10. Anu Malik has to give better music for these big banner movies, otherwise, AR Rahman, Shankar-Ehsaan-Loy, Jatin-Lalit, Nadeem Shravan, etc… will have the upper hand.