Producer: Subhash Ghai
Director: Subhash Ghai
Starring: Hrithik Roshan, Kareena Kapoor, Jackie Shroff, Rati Agnihotri
Music: Anu Malik
Lyrics: Anand Bakshi
Singers: Hariharan, Asha Bhonsle, Sunidhi, Udit, Sukhwinder, Sonu, Allka, Kavita, Hema Sardesai, K.K., Sneha Pant, Mahalxmi Iyer
Audio on: Tips
Number of Songs: 10
Reviewed by: Anish Khanna
Reviewer's Rating: 6.5 out of 10

---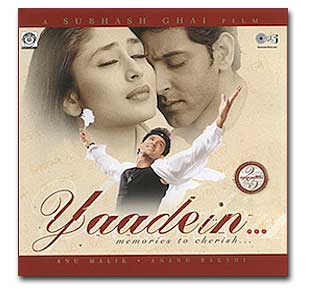 Yaadein... The name itself evokes a sense of deja vu in our souls. Maybe Anu Malik was going with this theme when he decided to give us music that - well - weīve heard before. Or maybe we havenīt heard all of it before, but overall it isnīt the kind of stuff that weīd like to listen to over and over. What is perhaps the most uninspired score in the history of Mukta Arts recently released in the form of "Yaadein". Now - donīt get me wrong. It isnīt bad. But it certainly is not the kind of album that makes for a classic. And if Anu Malik wants to play with the big boys, he might have to be consistant in composing like one.
The only real yaadgaar song in "Yaadein" is the title one. This is one of those perfect blends of lyrics (Anand Bakshi), instrumentals (the guitar hasnīt sounded so sweet in a long time), melody (it sounds original to me, Anu) and vocals (aaaaaahhhhh, Hariharan). Wow. Even the reprise with the childlike-sounding Sunidhi Chauhan and Mahalaxmi Iyer convinces you that this tune stands on its own. And it deceives you that the rest of the album will, too.
Even Queenbee Asha Bhonsle canīt save "Jub Dil Miley" from the "Jisse Tu Na Mila" hangover ("Refugee". Ahhhh... Refugee. THAT was a yaadgaar album!). Come on, Anu! Who are you trying to kid? Sure, a song works once but at least wait more than a year before you rehash it! Anyhow - the song features Asha with Udit Narayan, Sukhwinder Singh, and Sunidhi Chauhan.
Though it gave me a flash of "Sona Sona" from "Major Saab", "Chamakti Shaam Hai" is one of the more ear-friendly compositions (maybe Iīm taking the yaadein theme too literally). Sonu Nigam and Alka Yagnik manage to inject the Punjabi style song with enough gusto and energy. Sure, the "Oye Baby" gets a little "Oye Obnoxious" after a bit - but the fast beat keeps the song going.
Ok - now I am taking the nostalgia thing too far. "Eli Re Eli" reminded me a bit of "Kehta Hai Mera Yeh Dil" from "Jeans". The only plus point of this song is that Alka, Kavita, and Hema Sardesai seem to be having the time of their lives. Not bad, not good. Just average.
After the "memory" of the title song, Hariharan is saddled with the less than memorable "Kuch Saal Pehle". Anand Bakshi fails miserably with lines like "Romance ho gaya; Bye chance ho gaya." Yech! Even the tune is nothing special. Apologies to Haribhai - you deserve better.
Sneha Pant and the new big gun on the block, K.K., sing the sweet "Aye Dil...Dil Ki Duniya Mein". Ok, itīs sweet when Ms. Pant sings but must K.K. pant in his best Bon Jovi? And his vocal-grinding Bon Jovi isnīt even that good. Is this really the same voice that sang "Tadap Tadap"?
I quickly blocked out "Satrangi Re" and enjoyed "Chanda Taare" a lot! Sukhwinder Singh and Kavita K. Subramaniam are amazing here and one canīt imagine anyone else singing it. This is a great melody with a good chorus and inspired instrumentals. Thank god for small miracles...
All in all - this album is fare stuff. Anu Malik disappoints after ranting and raving about how great this music would be and after having given us the promising "Refugee", and "Fiza". The music will surely catch on with Hrithik flexing his muscles and Kareena batting her eyelashes - but is that what Subhash Ghai films are about? If it were the soundtrack for the latest David Dhawan or Abbas-Mustan release, then fine. But this album bares the long lineage of such gems like "Karz", "Hero", "Saudaagar", "Ram Lakhan", and the more recent "Taal". Maybe weīd best stick with the memories...