Public Rating Average: 5.08 / 10 (rated by 413 viewers)
---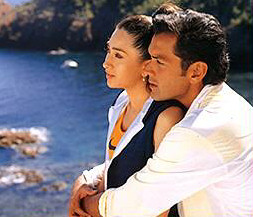 Thinking of the latest track record for both talented yet faltering director, Indra Kumar, and the disastrously odd couple, Bobby Deol and Karisma Kapoor, one would hope that two possibly negative points would negate one another out, leaving us with a surprisingly interesting Aashiq. Indra Kumar had spun out successes like Dil, Beta, Ishq (okay, success-worthy), and the not-so up there Raja and Mann, likewise, Deol and Kapoor´s Hum To Mohabbat Karega, yet we strike no such luck.
The "Aashiq" is Chander (Deol), a very helpful, happy-go-lucky, worry-free guy who makes both friends and enemies alike due to his kind and just ways. Enter Pooja (Karisma), the rich heroine who falls for his endearing mannerisms and so on and so forth. Hence, we have the romantic angle.
Humor kicks in with Johnny Lever and his comical stints, which we do actually laugh at. Humor is countered with seriousness, as the romantic match is not exactly a societal and family one, and family opposition and the expected kick in; hence, we have established the serious angle.
And where we have a Deol, should we not have an action angle? Enter Rahul Dev, the flesh trader who kidnaps Karisma´s perfectly liposuctioned body. Guess who is framed? None other than the Deol, and he sets out to free his name, and of course, as a bonus (okay, maybe not for him), Pooja. An aashiq on a mission to save his heroine, his mehbooba, at whatever cost, for nothing is too great a risk for his love, makes the exciting tale of Aashiq (okay, so my sentence was more exciting than the entire movie itself).
Though the story itself sounds interesting, it really isn´t, as much as I hate to admit. Basic average guy, rich girl love story, must save girl as she shrieks for help, and the end. Oh wait, don´t forget the songs which can sometimes make or break a movie, which in this case, did more breaking. Execution of the story, though, could have done wonders but didn´t. Sometimes even when a stroy is bland, the way it is carried out makes all the difference. The movie got off to a good start but didn´t hold the excitement through the three hours, though Johnny Lever did help more than hurt.
Like I said, music did nothing for the movie except give Karisma some time to exercise and Bobby, some steps to learn to go home and coach bro Sunny on. Picturization was better, though, making the music more bearable, but is it too much to ask for both?
Acting-wise, Karisma is unchallenged as she reverts from substance roles like Zubeidaa, back to her shrieking annoying self (is it acting, or just natural?). Bobby Deol just has that comic look to him that makes it difficult to decipher his acting as humorous or serious, or a little bit of both; either way, he does well in his role. I sort of like that about him, though, that light-hearted goofy look on his face when he is supposed to be so serious. Johnny Lever was more humorous than annoying, which is good to see after some recent flop comedy of his. Anupam Kher does well, as usual.
Rahul Dev, the amazingly talented newcomer, proved his villianous capabilities in Champion, taking the attention away from Sunny and Manya. Interesting how he challenges (both in the story and screen presence) Bada Bhai Sunny in his first release and Chota Bhai Bobby in his second. This is one guy who I must say definitely has talent.
Overall, the film is a bit better than a timepass film.