Bawandar

Producer: Jagmohan Mundhra
Director: Jagmohan Mundhra
Starring: Nandita Das, Rahul Khanna, Gulshan Grover, Govind Namdeo, Raghuvir Yadav, Lillette Dubay
Music: Pandit Vishwa Mohan Bhatt & Daan Singh
Lyrics: Dr. Hariram Acharya
Recommended Audience: General
Approximate Running Time: 2 hrs

Reviewed by: Rakesh Budhu - Rating: 9.0 / 10
Let us know what you think about this review
Public Rating Average: 5.08 / 10 (rated by 413 viewers)
---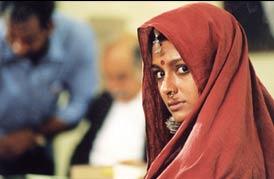 Somehow it seems that it may lack that certain ┬┤extremely fabulous┬┤ chr('8211')chr('8216')perfect filmchr('8217') punch. Known for making erotic films, Jagmohan Mundhrachr('8217')s critically acclaimed Bawandar is slowly being released around the world, some parts in cinemas, some parts at charity events, some parts at Film Festivals, and others, like New York, straight to the DVD. Bawandar is not erotic (for the most part), much, much more serious than Monsoon, one of Mundhrachr('8217')s previous films, and is quite worth a watch.
Yet the mood isn┬┤t as dark as 1947 Earth; isn┬┤t as solemn as Godmother, and somehow it takes a little away from the film. Never the less, Nandita Das┬┤ excellent performance (yes, she is definitely in reckoning for a critic┬┤s award this year), a good musical score and a sincere output makes this indeed another great film of 2001, thankfully, it joins the lengthy list (that is not quite finished yet).
Bawandar- Sandstorm started out with an aspiration by Mundhra to make a film based on his homeland Rajasthan. Unfortunately, on his journey for a subject matter, he encountered a sad story from a reporter of a newspaper titled The Guardian. He read from this newspaper the tale of Bhanwari Devi, a worker in a group known as Saathin, who was raped by men of an upper caste. Bhanwari was raped because she protested child marriages, the men supported it.
Mohan introduces the story through first party narration. The party however, is not Sanwari (Nandita Das); it is Amy (Laila Rouass). Amy is a reporter from overseas who was attracted to Sanwari┬┤s tale when she read it in the paper. She doesn┬┤t go to India to investigate her matter specifically, but the issue of women and child marriages in general. Together with her beau, Ravi (Rahul Khanna) she arrives in Rajasthan and encounters a rubbish old man (Raghuvir Yadav), one of the many in the village. The villager helps them on their way to another village where they encounter Sanwari┬┤s rapists of the upper caste. The man helping them along their way is none other than Sanwari┬┤s husband; he then tells Amy and Ravi the sad tale of Sanwari┬┤s rape. We are then taken through a second narrative of Sanwari┬┤s husband, who was right next to Sanwari during the horrible rape. He then tells the horrible tale of Sanwari┬┤s journey.
What follows is what makes Bawandar a must see film, the boldness, that has been seen previously in Chandni Bar, Satya etc. Sanwari┬┤s journey is what has won this film awards, the introductory scenes, especially between Amy and Ravi, are only ok. They aren┬┤t like your average Bollywood films however, that┬┤s quite clear from the start. Yet, though Mundhra doesn┬┤t show a single sign of attempting to please the masses in the film, the introduction is the least inviting portion of the film.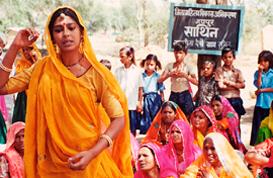 Sanwari┬┤s journey turns out to be her true rape, much more brutal than the real thing. She encounters a lavish styled female inspector who questions her complaints with the factor of satisfaction (that is- sexual satisfaction), the police officer who practically strips her himself, another inspector (portrayed masterfully by Govind Namdeo) who questions the rapist┬┤s satisfaction during the incident, and much, much more. The one standing out the most is the doctor whose examination would prove just as bad as the rape. Naturally, one would expect from this theme that the film is not suitable for children. It┬┤s not. There are certain scenes that are heavily influenced with a sexual theme, and in Mundhra┬┤s defense, they are rightfully done that way. Many of these films are not aimed at pleasing the masses, which includes children and adults alike, Bawandar is no different. Topics such as masturbation, semen counts, and sex itself are included, in detail at times, in the film.
You may be thinking these are your typical stereotyped characters. Yet since the film is based on the real incident, and the characters are real, you┬┤re left with a certain feel in which you can┬┤t call this film "typical". Furthermore, the casting does their job accurately without displaying faux emotions and blatantly insulting the audience┬┤s intelligence.
Even the help is typical. For the common weakness in the society displayed here, and existing almost everywhere, is the feel that once an incident has occurred nothing much can be done to over come it. That proves true with the women who try to help Sanwari, naturally, to no avail. Again, realistically portrayed, and realistically presented.
Sanwari finds legal help in a lawyer portrayed by Gulshan Grover. The trial realistically takes some time and goes through a number of changes in the process. She is still waiting for justice- and that doesn┬┤t change in the end of the film. Whatever so-called "justice" she achieves during the case, which is the only portion consisting of positive elements in this film, will clearly not benefit her in her endeavors to come.
Gulshan Grover naturally excels in his role. We rarely see him in positive roles, and this one shows us that he can act superbly in that field as well. Gulshan will also be seen positively in Tanuja Chandra┬┤s up coming film, Yeh Zindagi Ka Safar.
The best, absolutely spectacular aspect of this film is Nandita Das. For those who don┬┤t know who she is, watching this film, you will know her. You will know that this is not her first portrayal of a character. While the rape scene is explicit, and excruciating, Nandita doesn┬┤t scream loudly (as Rekha in Lajja), her cries and her facial expressions seem much, much, more real. Her voice is quite attractive and real. Her accent blends absolutely perfect with the film considering the backdrop. A true ┬┤based on the true story┬┤ film is where the protagonist can be passed as the real person, and you will absolutely feel Nandita is Sanwari. While she has already won some awards for her performance internationally, she joins a long list of excellent performances in Hindi Cinema this year.
Rahul Khanna and Laila Rouass are the least concocting characters in the film. While their portrayals are decent, they don┬┤t draw to the audience. Rahul Khanna does a good job here but the portrayal doesn┬┤t require much, is short, and his role in 1947 Earth was lengthier. Lillette Dubay and Deepti Naval are also good in their roles, but their roles are short and don┬┤t leave an impact with the viewer. They do help the narration but are sidelined in the relative flow of the movie. Raghuvir Yadav as Sanwari┬┤s husband is probably the next best thing. One wonders, considering his role in 1947 Earth, if he is really acting, or if this is just his natural self. Quite the support, and quite a positive aspect of the film.
The exterior aspects of the film are not forgotten, which is a must when making a perfect film. This is what adds to the power of this sandstorm. Aside from the locales true to form, the music is well interspersed throughout the film and doesn┬┤t interrupt the flow. Ab To Jagna Ki Hoga is probably the best pictured tune and Paangath stands out with it. There are no exotic locales here folks, simplistic, as in real life. This all adds to the dramatic tale. You can have traditional song and dance and a meaningful film as well.
For a film that has won many awards, this sandstorm is something that provokes thought. For a woman who laudably has sought justice despite horrible factors testing her faith and a woman who has taken the challenge to portray that woman so succesfully both Sanwari and Nandita deserve an award for this. So it┬┤s not as dark, brisk, and pessimistic as 1947 Earth. It may lack that grayness which stings the viewer constantly throughout the film, but that alone pales in comparison to the fact that you are left with once the film is over, that is, that she is still waiting for justice.