Ehsaas

Producer: Pravin Shah- Time Films
Director: Mahesh Manjrekar
Starring: Sunil Shetty, Neha, Master Mayank, Shivaji Satam
Music: Anand Raaj Anand, Milind Sagar and Prajwal Anand
Lyrics: Madan Pal, Anwar Sagar, Prateek Joseph, Praveen B
Genre: Drama
Recommended Audience: General
Film Released on: 30 November 2001

Reviewed by: Rakesh Budhu - Rating: 7.0 / 10
Let us know what you think about this review
Public Rating Average: 5.11 / 10 (rated by 410 viewers)
---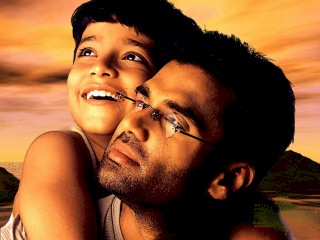 From a prospective aspect, when a film releases with the potential to click with the audiences in the sense that they can relate to the film, it is natural after the film releases to make that comparison. In that point, Ehsaas-The Feeling succeeds. Mahesh Manjrekarchr('8217')s multi-project spin off continues this week, only two weeks after his last release, with a few more coming up. Needless to say, not all of his films are perfect, but they all come across with a message involved. Ehsaas continues with that trend and while not as good as some of his greatest works has its share of pluses and minuses.
In a small town in Goa lives a young boy and his father. This usual combination has suffered the loss of an essential person in their lives. Rohan Naik (Master Mayank Tandon) has lost his mother.
Interestingly enough we are the ones that have to look into the characters presented in the opening of the film. Instead of wasting precious film time he has presented two characters to us and asked us to figure them out, but, instead of presenting situations and leaving us to assume the reasons behind them, we can easily figure it out. Therechr('8217')s little complexity and a lot of understanding.
Before too long Ravi begins to raise his son much like any single father would. Naturally, the lack of a mother, the softer side of a relationship would prove a hard task in raising a child. That difficulty is quite evident here. Instead of showing sympathy to their loss and enhancing their relationship due to the loss, Ravi begins to raise Ravi in a strict manner. He chooses to grasp on an aspect of his child in hopes to grow on it, solely. That aspect is Ravichr('8217')s athletic ability. Before Ravi realizes it he becomes so engulfed in his desire to bring up a successful young athlete that he loses his sense of caring and what little love he had to begin with.
We can clearly understand Ravichr('8217')s misconception in thinking he is raising his child in the right manner, and we can clearly understand Rohanchr('8217')s confusion in attempting to please his father and not realizing the pressure on his two feet (since he is a track runner). Instead of beating up the violence scenes over and over again, Manjrekar has presented it in a way so that the audience can engulf it, perhaps relate it to their own lives at times, and move on. It is simply just enough to feel for Ravi, understand Rohan and not slap our face with the beatings and animosity of the sensitive subject.
Thankfully, Rohan is not a closed up vent clogged with no room for letting his emotions out. Rohan has wisely befriended his neighbor Antra (Neha), who is a sounding board, a tissue to wipe his endless tears that fall on her shoulder every time they meet. Antra though becomes involved in her own problems. Sooner than you can think, Antrachr('8217')s parents have decided: chr('8220')Humari beti jawan ho gayichr('8221'), and have found a groom for her overseas. Hesitant, Antra is reluctant to agree to their decision for despite all the negative qualities she has been hearing about Ravi, she has developed an intrinsic feeling for him. Intelligently, as most children would, Rohan becomes aware of Antrachr('8217')s feelings for his father.
Rather than thinking of himself, Rohan realizes that Ravi could easily become as violent with Antra as he is with him, or so his naivety leads him to believe. Instead of choosing to accept her as his mother, he realizes he may be losing something more important, a confidante, something perhaps Antra canchr('8217')t be as his mother. In the meantime Ravi has pinned his hopes on a big race coming up, yet, fate plays a hurtful game on Rohan and places him in a harsh accident. At a New Years Eve party Antra converses with Ravi about her predicament, but unbeknownst of Antrachr('8217')s true feelings, Ravi encourages Antra to go on and meet the NRI. His decision causes Rohan to re-think his previous decision and leads to the climax of the film.
Climactically, the film works. In fact, there is a little of Lagaan in it. The portion where the audience is gripped in the sequence (the track meet vs. the cricket match) and rooting on for the protagonist. For that, Manjrekar has successfully interspersed entertainment in what is at most a quite solemn movie. Other aspects are not as needed.
The comedy track courtesy Sanjay Narvekar is poor and not at all concocting. While music is not a necessary factor when presenting a film and Manjrekar has been known to put little to no emphasis on a soundtrack at all, if youchr('8217')re going to include music in the soundtrack at least make it somewhat entertaining! Just because a film doesnchr('8217')t need to have music doesnchr('8217')t mean you throw in some lackluster songs in it! Case in point
Astitva, while the songs were not at all important to the narrative, Manjrekar threw in some beautiful tunes, which helped the film along its way.
Deepak Kulkarnichr('8217')s dialogues stand out, especially with Rohan. We donchr('8217')t need metaphors to have a good film; the dialogues here are realistic and in that sense stand out. The film doesnchr('8217')t bare a polished or glamorous look. There Astitva and Ehsaas are up to par together in that both realistic films werenchr('8217')t dosed with too much panache. This is exactly the opposite of Manjrekarchr('8217')s last release Tera Mera Saath Rahen, which came across as a commercial attempt of a polished project of big budget nature with a hardcore attempt at box office success. Ehsaas is exactly the opposite. Never the less the simple Goa look and cinematography courtesy Vijay Arora leaves an impression with us. Nitin Desaichr('8217')s look in the art direction area enhances the filmchr('8217')s simplistic look. Antrachr('8217')s role in the film would really seem un-needed and included as an attempt to just include a love interest, that changes throughout the narrative, but the film would have had more of an impact with the lack of that essential romance angle.
Performance wise, Sunil Shetty gives a mixed act. One wishes the actor didnchr('8217')t do films like Ittefaq, Officer etc. While watching the film one kept help put picture that guy in the back of their heads, but this Sunil Shetty is not that guy. In fact his performance is applaudable at portions and goes to show that with the right director he too is one of the accredited actors out there. Neha needs a lot of work before she can get noticed. With few releases under kitty her role doesnchr('8217')t leave the audience in appreciation. She doesnchr('8217')t do a bad job and is definitely good at some portions but the overall feel of her performance is that it is just all right. Her dialogue delivery is mediocre, standing out at times and staying average at others. Not surprisingly,
Master Mayank is the pick of the lot and the best performer of them all. Itchr('8217')s interesting how child performances make a film much more enjoyable and increases the filmchr('8217')s potential (witness Kuch Kuch Hota Hai and the young Sikh boy, Rahul and Tera Mera Saath Rahen
deserve mention but they failed to click at the turnstiles). It must be their rawness and their ability to simply become their characters. Mahesh Manjrekar himself alongside music director Anand Raj Anand and popular singer Sunidhi Chauhan make an appearance in the film. Realistically, if you realize that it took me this long to point it out you can also realize that their overall impact on the film is minimal. Although Manjrekarchr('8217')s performance is somewhat of a tease for what we will see in the upcoming Kaante! Shivaji Satamchr('8217')s role as support to Rohan and Ravi is also well handled. He isnchr('8217')t given too much time to make the audience bore over his support and his acting is worth the watch.
In the end, Ehsaas is a good film, not great, but good. Whether it will succeed at the box office should substantially be ignored while approaching it, itchr('8217')s simply something you shouldnchr('8217')t think about. Manjrekar has safely proven that sensitivity is his cup of tea and with Ehsaas he only adds some assurance to that assumption, but not perfectly. Itchr('8217')s all clear here folks. We all know that sometimes our dreams are so intense that when the opportunity arrives to actually achieve them we sometimes go to extremes and forget about persons or things in our way.