Public Rating Average: 5.11 / 10 (rated by 412 viewers)

---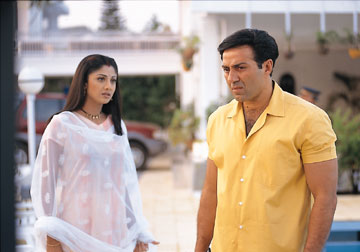 All those of you who have been waiting with bated breath forthe release of Indian after the super-duper success of Gadarare in for a sore disappointment. Directed by N.Maharajan,Indian is not a patch on its Sunny predecessor and for allpractical purposes is yet another much beaten and bruisedrehash of a typical Deol action flick.
Sunny Deol plays righteous DCP Rajshekhar Azad who is out todispel every terrorist element including Wasim Khan (MukeshRishi)and his Laskar-E-Jehadi group and gets him arrested. In the processhe also ends up knocking off the corrupt DGP Surya Pratap Singh (RajBabbar) – who incidentally is also his father-in-law. What abouthis wife, you think… Well, Anjali (Shilpa Shetty) is the apple of hiseye strutting around and doing her thing till one day she discoversthat her own husband is responsible for her father's death thanks toCBI officer Joginder Singh (Om Puri). From that moment on our ladyis strutting in a whole different direction. Divorce! She screams!
Azad's miseries are compounded with the entry of Shankar Singhania (DannyDenzongpa) another vicious and corrupt (not to mentionstinking rich) businessman who rubs Azad the wrong way with hisattempt at acquiring a plot of land by illegal means.Surprise-surprise! Singhania is also an associate of Wasim Khan.Together the two bad boys fight our dashing and dynamic hero to thevery end, till of course he emerges the winner and all is well with theworld once again.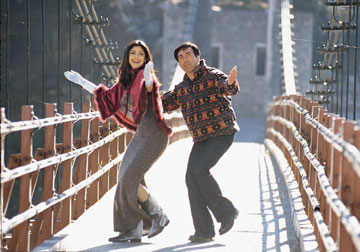 Indian, by far is one of the most disappointing Sunny Deol films inrecent times. It has a shoddy narrative punctured further with insipiddialogues and an awful sense of drama. The director Maharajan failsto elicit a single noteworthy performance from any of his actors.
Sunny Deol needs to start sinking his teeth into characters that domore than beat others to pulp. I mean, going by his track record, he'sprobably beaten or thrashed a few hundred people to death onscreen. Some body STOP him!!! Shilpa Shetty as mentioned abovedoes little besides look pretty and sashay on and off screen like loosechange that came scattering in like one big mistake.
The supporting cast of Danny Denzongpa and Mukesh Rishi throw ina few competent moments, but there's only so much they cancontribute to an otherwise uninspired film. Om Puri and Rahul Devmight not have been there at all.
The music of the film is extremely mediocre with a couple of mildlyhummable melodies, which of course go flying right out with thebreeze that assaults you once you've stepped out of the cinema. Thecinematography by A. Ramesh Kumar is commendable, but it canhardly sustain the rest of the flick.
N. Maharajan does a poor job of putting things together in Indian.One surely hopes his next venture is a step towards more concretecinema. In the mean time you can safely stay away from this one.
Copyright © Planet Bollywood - All Rights Reserved