Kabhi Khushi Kabhie Gham

Producer: Yash Johar
Director: Yash Johar
Starring: Amitabh Bachchan, Jaya Bachchan, Shah Rukh Khan, Kajol, Hrithik Roshan, Kareena Kapoor
Music: Jatin-Lalit, Sandesh Shandilya, Aadesh Shrivastava
Lyrics: Sameer, Anil Pandey
Genre: Family
Recommended Audience: General
Approximate Running Time: 3 hrs 40 mins
Film Released on: 14 December 2001

Reviewed by: Rakesh Budhu - Rating: 8.0 / 10
Let us know what you think about this review
Public Rating Average: 5.07 / 10 (rated by 417 viewers)
---
Karan Johar, Yash Johar and Kuch Kuch Hota Hai one of the biggest blockbusters of our recent decades, two names and a title Bollywood itself has yet to forget and wonchr('146')t forget any time soon.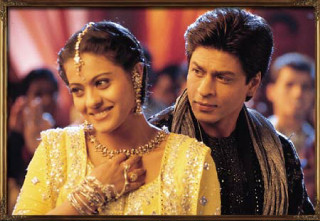 Letchr('146')s face it folks, Kabhi Khushi Kabhie Gham may not be a superb film with an intense flawless backbone, but for all that the film promises on it delivers. Be forewarned, however, if you sit down to watch this film to tear it apart as many of the critics may have done (and already have), youchr('146')ll have the opportunity to do so. On the contrary, this film critic sat down to see if Johar would live up to his promises on a film that would give us the opportunity to laugh, cry, smile, and come out feeling like the film was worth the hiked ticket price and the turbulent situations I had to face to actually get into the theatre, and thankfully it has. Please donchr('146')t expect a superb film with a hardcore script, those that were expecting a superlative film of critical acclaim nature, my advice: keep on dreaming.
Kabhi Khushi Kabhie Gham has its share of flaws and its share of excellent attributes, and for fans, the positive aspects doubtedly outweigh the negative. For those that havenchr('146')t seen the film yet because of the overbooked cinemas, the plot is relatively simple. The script is not intense, surely not original, but it is after all a Johar film, and for that fact nothing is short of pleasant.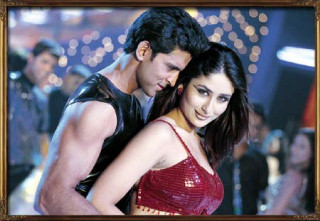 Yash (Amitabh) and Nandini (Jaya) have raised their children, Rohan a.k.a. Ladoo (a young Hrithik Roshan) and Rahul (Shah Rukh). Rahul was adopted when he was younger. Circumstances intervene and Shah Rukh falls in love with the wrong girl, Anjali (Kajol), a peppy girl from Chandni Chowk. Exasperated at his audaciousness Yash is torn that Rahul refuses to marry Naina (Rani Mukherji); a person Yash feels is of much better class than Anjali. Yash and Rahul part ways unaware of the pain they have caused all of the others in their loving family. Come post-interval a changed and grown Rohan and a promiscuous Pooja, Anjalichr('146')s sister, join forces to bring together Rohanchr('146')s torn family in the name of Yashchr('146')s dieing mother, played by Achla Sachdev.
Therechr('146')s a lot to talk about in a three and a half hour film. There are also many more characters; many that play no role at all like Himani Shivpuri and Johnny Lever (one can really appreciate Kajolchr('146')s comedic character much, much more than Johnnychr('146')s). On the opposite side, Farida Jalal as Daijaan was also one of the best characters in the film, but that later.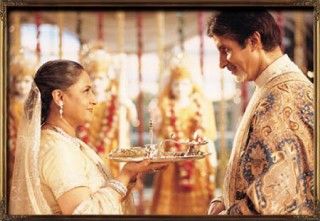 First the positive aspects: Youchr('146')ll laugh, youchr('146')ll cry, and youchr('146')ll think of your parents many a times. Donchr('146')t think for a minute that Johar has disappointed, even if certain critics want to shove it down your throats. Johar handles the emotive scenes and the sad scenes with a magic touch, that which makes us recognize his talent. Certain scenes will remain in your memory for their emotive qualities long after the film is over, most notably, Nandini waiting for Rahul at the door thinking he will return; Anjalichr('146')s father dieing, which despite its un-relative flow with the impact of the film has a strong impact on the viewer, Anjali and Rahulchr('146')s son, Krishi, reciting the Indian National Anthem; The reciting of the words of wisdom from Krishi to Rahul that came from Yash to Rahul, the discovery hereafter that Rahulchr('146')s houseguest is none other than his own bhaiyya too. These are only some of the scenes that combined with an awesomely emotive background score; something Karan obviously knows the importance of, will touch the viewer sincerely. In fact, Karan Johar also plays with our emotions, giving us lots of tears and then quickly after giving us some laughs to dry them up!
Naturally, the technical aspects of the film ala Sharmishta Roy are all first-rate and at times mind-blowing. From Kiran Deohanchr('146')s lush camera-work, to the exquisite sets to the impressive costumes, you´ll marvel at them all. The setting of the title track, to the overall film, itchr('146')s all 100 percent first class visual appeal. However, all the beauty may alienate the poor and middle-class audience periodically. There have been rich families on films before, but none of them have shown off or been so ghamandi about their riches like the Raichands. Heck even the outfits from Manish Malhotra, Shabina Khan and Rocky S. are indeed rich. Dialogues are endearing, from the comedic angles to the seemingly clichéd Pati-Parmeshwar scene between Nandini and Yash. Thank the gods of Hindi Cinema for Kajol and Shah Rukh, a pair that hopefully we will be embraced with once again. I canchr('146')t speak enough of their chemistry hence I wonchr('146')t even try.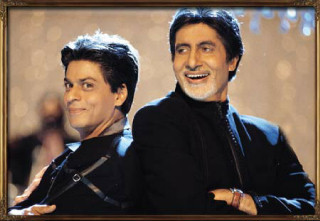 The choreography ala Farah Khan is indeed enjoyable, and the videos for the songs are all wow! From Suraj Hua Maddham to Bole Chudiyan the songs are all boasted up adding to the extrinsic look of the film. Shava Shava, Amitabhchr('146')s kicker is one many of his fans wonchr('146')t forget, especially with the theatre running crazy. The short-skirted girls may have been a little too much, but his break down into chr('147')Aati Kya Khandalachr('148') was also a rave in the audience. (While some critics bashed the tune stating that it took place in a ten-year flash back, they should realize that there was no time frame or year given on the song, ditto for the high tech technology).
The acting department is filled with superb performances, but those that were expecting groundbreaking performances from Amitabh or even Shah Rukh; you may (stress that) be disappointed. Note that there is one person, thankfully, from each of the three major couples in the movie to balance off their counterparts´ opposing crap or mediocre performances. Shah Rukh and Amitabh are without a doubt good, but the Mohabbatein theme is still quite fresh in the memory giving you a feel of chr('147')seen this alreadychr('148'). Amitabh is not horrible, but this isnchr('146')t the type of performance one expects from a screen legend. Yash comes across with such a lack of regard for social responsibility. Many think it was Shahrukhchr('146')s film, and though his performance is restrained and skill full (and probably the one that wins him the Filmfare this year) I donchr('146')t think hechr('146')s the male winner. Itchr('146')s Hrithik all the way baby.
After Yaadein flopped, in an interview, Hrithik said, chr('147')All my fans want a Rohan and a Rohitchr('148'), in this film they have a Rohan and theychr('146')ll be happy. I despised Yaadein, and that includes Hrithikchr('146')s mediocre performance. He redeems himself completely here. His emotive sequences, especially his tear jerking scenes are well handled, especially the bench scene between him and ShahRukh. I donchr('146')t even need to talk about his mind boggling foot work in his dance steps, he is without a doubt the best dancer Bollywood has seen in recent times.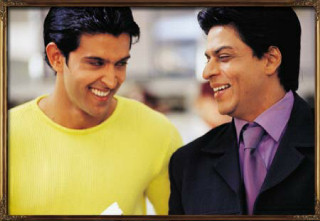 On to the female cast, Kajol is the winner here folks. Those that said Johar gives his best to Kajol couldnchr('146')t be closer to the truth (Even if this is only their second collaboration). Her Punjabi accent is commendable, not perfect, but awesome nonetheless. Itchr('146')s her well balanced act between comedy and emotion that strikes at the viewer, and more so, itchr('146')s the lingering memory of Kuch Kuch Hota Hai that one canchr('146')t relinquish that makes us enjoy her awesome performance even more (probably because her last two releases were duds). Not only does she look awesome she is the highlight of the film and thankfully, shechr('146')s all over it! I only hope this isnchr('146')t her last film, clearly we would be the only one losing out if it is.
Rani Mukherji is lovable. Yet, it seems like Johar was still trying to keep the KKHH thing going. Even still, she performed well, looked awesome, danced awesomely in both of the two tracks she was included well and is bound to be appreciated in the awards ceremony coming up. Her entrance too proved that she was indeed intended as a surprise.
Farida Jalal has probably given her best performance since last yearchr('146')s Pukar. As chr('147')DJchr('148') she is a second mom to Rohan and Rahul and her requirements to portray it are not any different than Jaya, and she is awesome doing it. Heck, take out Jaya (not meaning she did a bad job) and Farida Jalal wouldchr('146')ve been quite satisfying as the surrogate mother.
Jaya Bachchan isnchr('146')t disappointing though, which makes it hard to choose which mother is the best of them all. Her character was well written and her performance is an excellent follow up to her performance in Fiza. Her emotive scenes are quite touching and she too seems to have the loving touch amongst both Shah Rukh and Hrithik. Her Pati-Parmeshwar bit with Amitabh may have been seen before, but not only does their unique and hardly seen (since Silsila over 15 years ago) pairing entertain, it surely distinguishes the scene, and her acting does that as well, specifically her ending it off with chr('147')I said itchr('133')chr('148') In the end you will definitely be reminded of your own mom with her performance and cherish her even more.
My favorite newcomer Kareena Kapoor (for now that is, I anticipate Esha Deol to take her spot away) is hated amongst many of my peers and family members (heck, Ichr('146')m sure shechr('146')s hated amongst some of Bollywoodchr('146')s followers too). With K3G, she seals her fate as either being loved or hated, for her Alicia Silverstone- chr('147')Cluelesschr('148') act can only be appreciated by those that are aware of her bubbly presence, her comedic strength, her sassy attitude (my most favorite quality about her) and her lack of the ability to wear a full body outfit. Poo is a character that is well defined, but her definition is not going to be liked amongst those that are seeking an all out family entertainer. It gets funny after chr('147')Itchr('146')s raining menchr('148'), but unless youchr('146')re a fan and can appreciate her, chances are you wonchr('146')t like her one bit!
There are many scenes that will win you over and leave you in knots and tears! Poojachr('146')s transformation from a slut type character to a humane persona and Rahulchr('146')s attitude towards it is indeed enjoyable. Back to the dialogues, when Rohan says, chr('147')God has blessed you with everything, money, home, but itchr('146')s sad that you donchr('146')t have lovechr('148'), and gets smacked for it, you will relate to both characters, Yash and Rohan. One of the most humorous memories from the film was Anjalichr('146')s quippy remark in the morning, unaware of whom is singing chr('147')Om Jai Jagdishchr('148') (A tune that has become trademark in the Johar-Chopra film bank), chr('147')Oh my god, the goddess Saraswati has incarnated herself in our home!chr('148') (Thatchr('146')s just one of the comedic highlights from Kajol in the film). Rohanchr('146')s stay in Rahulchr('146')s household also proves one of the entertaining points of the film. Anjalichr('146')s take off on the London life style was also a rage in the theatre with everyone cracking every second. Johar has done an awesome job overall with the comedy in this film, but what stands out more is he does it with a main protagonist not a comedian.
The opening scenes also prove a true to form introduction to what proceeds, and are even more well interspersed when Rahul and Nandini re-unite. The portion when Anjali actually gets her father in lawchr('146')s blessing is also well shot, and even more so, when Rohan stops her from running away is a highlight for both of them (Hrithik and Kajol). The character definitions of Nandini, Anjali, Ladoo and DJ are all excellent. Little Rohan is such a pleasantly plump delight and the young boy, Kavesh, portraying him is also bound to be one of the enjoyable comedians in the making (unless he actually does lose some weight, a joke quite relevant to the film!)
In fact, Kajol herself said that with such a big star cast you may have expected personality clashes, but there werenchr('146')t. Well with such a big star cast, youchr('146')d expect a persona to be sidelined, and that does not happen. Sure Jaya, Hrithik and Kajolchr('146')s performance stand out, but Johar has justified each scenario, each character and has given reasonable justifications for the going-ons.
Now to the down points: Though the performances are all well done, and donchr('146')t detract from the film, critically speaking they arenchr('146')t all plus points for the film though they are not included here.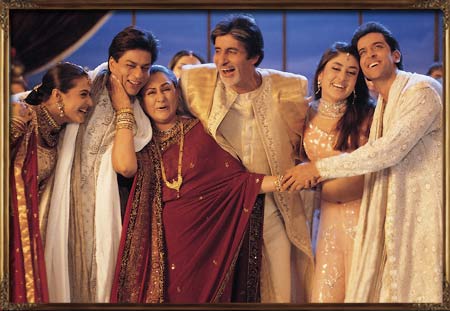 The story is indeed nothing extremely new. Script wise, Johar has taken a simple plot and added everything onto it. There are similarities to the recently released Hum Saath Saath Hain, Kuch Kuch Hota Hai (those unforgivable for the most part), Ek Rishtaa and Mohabbatein. Unfortunately the last two are fresh in the memory and stand out a little more. However, letchr('146')s please not compare this to Ek Rishtaa. I despised Ek Rishtaa and K3G shouldnchr('146')t be insulted by being called a rip off of it, thatchr('146')s an insult to K3G and a compliment to Ek Rishtaa. We all know Suneel Darshan was trying to make this type of flick when he released it, unfortunately the Johars had to show him how it was done. Itchr('146')s sad that Darshan released that film this year; it just shows us how bad that one is. The Ek Rishtaa resemblances may detract the viewer slightly, but calling this film a re-hash is an insult, and is clearly incorrect. A bench scene and the mention of a company and boom, itchr('146')s an Ek Rishtaa copy? A confrontation and a man defying something related to love and itchr('146')s a Mohabbatein copy? Give me a break. Karan Johar may have been underhanded by the recent release of those two films, but completely undoes that with everything else. The college environment gets funny to a point. Though it took me a while to actually stop laughing, we simply come to wonder, when these two, Pooja and Rahul are actually going to get studying for their MBA (okay, itchr('146')s not something you think about, but given the presentation I couldnchr('146')t help notice). The college campus in KKHH was young, lively, pleasant and straight out of Archie comics. This school, on the other hand, seems to be from the Evil Dimension. Girls dress like tramps, guys like goondas, and there isnchr('146')t any studying going on.
The length of the film is indeed noticeable and while the majority of the audience felt it was more paisa vasool, for some it may be hard not to notice, but hey, therechr('146')s always Kajol popping up to give you a good laugh.
Still one has to ask oneself, who can notice the drawbacks?! Itchr('146')s all handled with good style and panache, what Johar and Chopra films are all made of. Ichr('146')ve said it before, if you want to tear apart this big budget historic Bollywood extravaganza, youchr('146')ll have some opportunities (Like Kareenachr('146')s two different side shoes turning into the same side shoes in chr('147')You Are My Soniachr('148')), but donchr('146')t fool yourself into thinking that Johar has disappointed us. Dharma Productions has kept its promise in giving us a lovable film for us to remember in coming times, and despite having to push and shove to get into a packed-like a can of sardines- theatre, K3G is one heck of an entertainer and was worth the wait. Youchr('146')re one heck of a director Karan Johar, we can only wait for your next film. For those that want to bash Kabhi Khushi Kabhie Gham, in the words of Poo: chr('147')Whatever!chr('148')