Moksha

Producer: Ashok Mehta & Neerja Mehta
Director: Ashok Mehta
Starring: Arjun Ramphal, Manisha Koirala, Naseeruddin Shah, Farida Jalal, Danny Denzongapa
Music: Rajesh Roshan, Salim and Suleman Merchant
Lyrics: Javed Akhtar, Shravan Sinha
Genre: Drama
Recommended Audience: General
Approximate Running Time: 2 hrs 45 mins
Film Released on: 30 November 2001

Reviewed by: Alok Kumar - Rating: 9.0 / 10
Let us know what you think about this review
Public Rating Average: 5.09 / 10 (rated by 412 viewers)
---
Simply brilliant! Moksha is a thinking man´s dream film. Ashok Mehta´s directorial debut may not be perfect but it´s pretty darn close to it. Starring Arjun Ramphal and Manisha Koirala, Mehta´s Moksha is an artistic look at the psychological trauma imposed on a good-natured man´s mind by an uncaring and selfish world leading him to social deviance and despair.
Arjun Ramphal plays Vikram Sehgal, a lawyer with the rare quality of empathy whose sole aim in life is to make a difference in this world, where money is the root of all evil. Vikram wants to open up a law firm that deals with helping the poor and needy fight injustice, a place where even the poorest of the poor can find legal representation. He shares this dream with his ladylove Ritika Sanyal (Manisha Koirala) and together, the two unsuccessfully attempt to raise enough money to open their legal offices. The couple becomes disillusioned with the lack of support from all venues, including parents and friends, and immediately begins to search for other forms of income. One day it dawns on Vikram that robbing a bank could end his monetary issues forever, allowing him enough cash to open his office and live happily ever after with Ritika. He shares his plan with Ritika and the two immediately plot to support each other and go through with the robbery.
However, a few days prior to the robbery, Ritika develops cold feet and backs out of the plan. Shocked and dismayed at his lover´s betrayal, Vikram decides to go through with the plan on his own, and chaos ensues.
First off, Ashok Mehta is a director with guts not only for tackling a subject with an allegorical message but also for pulling it off with such panache, style, and class. The film will be seen by few and understood by even less, something which perhaps Mehta was aware of while making the movie, knowing the general low-IQ crap being produced by big budget production houses these days. His storytelling is sharp, combining story and substance with stunning symbolism and beautiful cinematography. One particular sequence that sticks in the mind of the viewer after the initial viewing is Manisha´s absolutely brilliant dream sequence midway through the film. Tastefully shot, Moksha will have you stunned with its technical brilliance. Nothing like this has been attempted in an Indian film of late.
The brilliant idea of having all the flashback scenes in color and present scenes in black-and-white adds a witty touch to the film, very much like Christopher Nolan´s brilliant Memento. Mehta´s direction is nothing short of sincere and heartfelt an excellent, well thought-out attempt. He especially handles the excellent courtroom scenes and the shocking climax with adept skill. It wouldn´t be too far off the mark to say that every scene of the film has something beautifully unique about it. The climax especially the absolute last shot of the movie deserves a standing ovation in and of itself.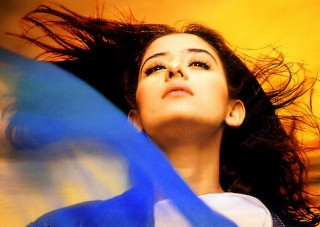 As for the performances, Ramphal is amazing. His performance is hard-hitting and quite a surprise, given the fact that this film was meant to be his debut. He is excellent in the dramatic scenes and is quite the natural with his facial expressions and emoting. He definitely deserves a nomination for Best Actor at this year´s major awards functions.
He´s a many, many league ahead of winning just a Best Newcomer award. Heck, even Fardeen Khan got one of those! Mehta has signed Ramphal for his next feature film, 24 Hours, which repeats the Moksha team of Ramphal, Mehta, and Manisha Koirala. Speaking of Koirala, she was a perfect casting choice for the role. Her innocent face and expressive eyes prove that Koirala was made to play Ritika. She is particularly superb in her confrontational scenes with Ramphal and looks amazing. Her role might not be the lengthiest but she takes what she has and runs with it, and isn´t that what good actresses are made of? Another feather in her cap after AHAT, Bombay, 1942: A Love Story, Yugpurush, Dil Se.., Agnisakshi, and some others.
The rest of the cast is equally as impressive, especially Naseeruddin Shah and Farida Jalal, who shine in their roles as the confidant and the overburdened Muslim widow seeking justice for her son. Sushma Seth as Ritika´s Naani is good as well. The film also includes cameos by Paresh Rawal and
Danny Denzongapa. Rajesh Roshan´s melodious music takes a back seat in the film, but no matter, because the songs fit very well with the film and are very well shot. Naani Maa and Seep Mein Moti are excellently shot.
The one flaw I found with the movie was that it dragged in places, especially during some of the arty scenes, which were well done, but a tad overlong. Still, Mehta beautifully conveyed his point in the film, and these arty sequences are important to the film, though they will fly over the head of the average moviegoer. Somehow, I still can´t get that haunting image of the statues broken and buried in the sand in the last shot of the film out of my mind!
So please folks. Do me a favor and please don´t ignore this beautiful piece of art. It´s not a perfect film, but it´s just so good. It´s evident why this movie is hitting the Film Festival circuit (It was recently screened at the Cairo Film Festival as well as the Locarno Film Festival). The film even picked up two National Awards at this year´s ceremonies. So don´t listen to some of lame-brained, intelligence-impaired, self-proclaimed trade analysts who gave this film the rotten review treatment. They wouldn´t know a good film if it ran up behind them and bit them (You critics listening?). You´ll be happy for it, believe me! Moksha is an excellent film that deserves accolades in a world full of manure piles like Yaadein and Deewaanapan. I can´t stand it when an excellent film goes unnoticed. But hey, that´s the Indian Film Industry for you.