'Ek Rishtaa The Bond Of Love' completes twenty years of its release today. For Suneel Darshan, who wrote, produced and directed it, it remains one of the most special experiences of his life. The filmmaker is a strong believer in family values and has always vouched for the importance of unity and strength in a familial unit. Through this film, which starred Amitabh Bachchan, Rakhee, Akshay Kumar, Karisma Kapoor and Juhi Chawla in principal roles, he tried and succeeded in communicating the same. The film was received warmly by the audience when it released in the year 2001 and has only become more popular with repeated viewings on television, home video and digital platforms.
In this interview, the man who crafted the story and brought it alive on the screen shares some of his most cherished memories attached to it.
'Ek Rishtaa The Bond Of Love' has completed two decades of its release. How do you look back at the film?
It's important to recall certain memories which mean a lot. This film deserves a certain amount or level of remembrance. I am not saying this because it's my film. It's a film which has resonated with a large number of people and with families for years. I am aware of the kind of appreciation it has received on television and on digital platforms. This just shows they have not forgotten the film and continue to celebrate the joy and lessons it provided them with. I told this story twenty years back and it is alive even today. I am sure it will remain alive for years to come.
Personally, you were very close to your parents and have often, in interviews and elsewhere, have spoken about the bond you shared with them and the void that is there in your heart because of them not being around today. Being an emotional person and somebody who values relationships must have helped you tell a story of this nature.
I always say I am a part of my parents and they will always remain a part of me. Life and its varied experiences will never be complete without the participation of those who have touched you emotionally.
The film released twenty years back. Do you think it is still relevant?
It will always remain a relevant film. The film will remain relevant till the time there is a father and a son. The story will continue to resonate till the time there is an element of hope and positivity to keep families together.
Why do you think there is a dearth of films which talk about family values?
Earlier, the decisions regarding what kind of stories should be told were taken by filmmakers. Then, stars came into the picture and started dictating what should be made. Then, corporates took over. After that, westernisation of our culture had its own effects. These things collectively tried to take away the kind of value system our cinema often spoke about. However, I must say they did not succeed in taking it away. I will continue making such films. Even Sooraj Barjatya has continued making such films successfully. There were others who were making these kinds of films and have stopped believing in that kind of cinema now. That is very unfortunate. I may have gone astray for a while but I never forgot my mission. My aim as a filmmaker has always been to spread positivity. I will continue doing that with the films I produce in the future.
Reportedly, Akshay Kumar had tears in his eyes when you narrated the script to him.
Yes, that is true. Akshay had invited me to his house for dinner. We had delivered a huge success in the form of 'Jaanwar' and he asked me what we were going to work on next. I narrated the story to him and he reacted to it very positively. I didn't' conjure up story; it was all within me.  There is another incident I remember distinctively. I had organized a preview show for the film which was attended by the cast and crew members. I was busy organizing everything and meeting the guests, so I didn't really get to sit back and enjoy the film that evening. When the second half was about to start, I thought I will go inside the hall where the film was being screened and sit there for five minutes. Just when I was about to open the door, it opened from the inside and Akshay Kumar walked out. He saw me, bent down and touched my feet. His eyes were moist and he looked at me with gratitude. I was really touched. When I made the film, I thought if it could touch just one heart or repair the relationship between one father and his son, then I will be victorious. I know that in these two decades, there has been many instances wherein this film has been a sort of a teacher to many individuals and helped them distinguish between right and wrong.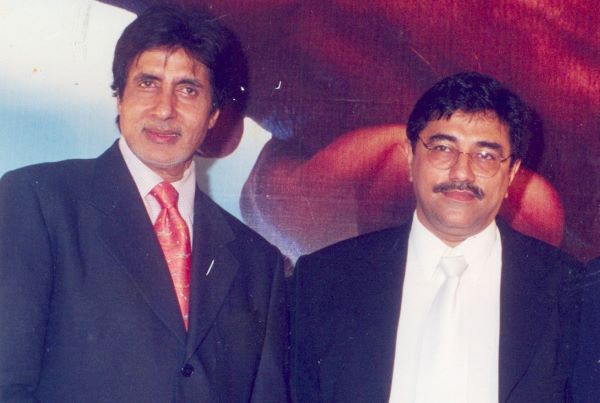 What was the biggest challenge you faced while making this film?
I just faced one challenge when I was about to start the film. The film was to be shot over a period of one year. Just when we were about to start shooting, Juhi Chawla got pregnant. This could have resulted in the film getting postponed by a year. I thought instead of postponing the film, let's prepone it. It was a very bold and instinctive decision. I had worked with Akshay and Karisma in the past. I shared a good professional equation with them, so they had no issue with this. I expressed my concern to Mr. Bachchan. I was not sure how he would react to it. To my delight, instead of asking me to postpone the film, he came every evening and shot with me from 7 pm to 2 am. We managed to finish the film before schedule. We started shooting in September and the film released in May the next year.
This was your second film with Akshay Kumar after 'Jaanwar'. After 'Ek Rishtaa The Bond Of Love', you went on to do many more films with him. But, this has been your only collaboration with Amitabh Bachchan so far. What has been your greatest memory of working with him?
When I was making this film, I was relatively a newcomer as compared to Mr. Bachchan. He became a superstar in the '70s and had been through so many experiences as an actor and a human being. I, on the other hand, started working in the industry in the late '80s. Mr. Bachchan would share his experiences with me. He would talk about what it was like to work with great filmmaker of that era like Manmohan Desai, Prakash Mehra, Ramesh Sippy and the others. All this further broadened my understanding of how the process of filmmaking should be approached. A lot of people believe that a good actor is the one gives hundred takes to reach the peak of his intensity. Mr. Bachchan used to say, "let's do a hundred rehearsals and then, finish it in one take". It was not just a more convenient approach but also an economical one. Working with Mr. Bachchan was a great learning experience for me.
The film boasted of a very popular soundtrack. Interestingly, composer Nadeem Saifi (of Nadeem-Shravan) put together the entire score in just two days.
Yes! The music of the film touches your heart and is still alive. I met Nadeem in London while I was on a trip. I gave him a narration and he asked me to give him two days. In one sitting, we finished the entire score. We have always mutual respect for each other. On a personal level, I am a huge Nadeem-Shravan fan. I admire his work and look forward to working with him in the future.