Two years back, writer and director Niraj Kumar Mishra embarked upon a difficult journey. With limited resources at his disposal and no external support, he decided to make a feature-length film in and around Saharsa, his hometown in Bihar. Niraj, who is known for his work on television and web and writing films like 'Baaghi 2', faced a lot of hurdles but managed to complete the film in record time.
The film, which was made in Maithili language and was titled 'Samanantar', recent won the National Award for the Best Maithili Film. To Niraj, this award seemed like a reward for fighting a rather tough battle and winning it.
What was your reaction when you got to know that 'Samanantar' has won the National Award for the Best Maithili Film?
When the National Awards were being announced, I was in a meeting. Once I got out of the meeting and got back into my car, the live telecast was going on. I just randomly went through YouTube live telecast of PIB to get an update on the National Awards. As I scrolled through the live announcement, I saw that 'Samanantar' had won the National Award for the Best Maithili Film. For a while, I could not believe that something of this sort had happened. I visited another website to verify the news. I realized my film, indeed, had won a National Award.
I was overwhelmed with emotions and just sat silently in the car for a while. My father was the first person I called up to inform about this win. After that, I started getting calls from a lot of people in the industry. It was a very new and special feeling.
Did you expect this win?
I have always believed that unique stories told honestly will always resonate with the audience.Since 'Samanantar' had been screened in several reputed film festivals across the globe and received a lot of appreciation from both the audience and the critics, I thought it had a decent chance of winning some of the awards in India as well. But, such things are impossible to predict. The National Award is the most respected award for our fraternity. Winning it is a huge honour.
Do you think it will bring a positive change for the Maithili film industry as well?
Yes, I think so. After I wrote the script of 'Samanantar', I decided to make the film in the most authentic manner possible. While watching the film, I wanted the audience to see a new geography and get a good understanding of it through its texture. If a film is made in the language of the region it is set in, it looks, feels and sounds more authentic. I prefer watching every film in the language it is made in. We don't understand Spanish or French in general, but we watch films with English subtitles in other languages as well, so why not in 'Maithili'? A Maithili film like 'Samanantar' can also reach a global audience. See, I completely understand that we don't stand a chance against such behemoths as the French and English film industries, let alone any other Indian languages; we're still struggling to find our footing because our stereotypical Bhojpuri film business ruined Bihar's ethnic taste and values. In any case, all we can do is keep making good films, regardless of language. This film was done in Maithili because it is my native tongue and it comes naturally to me. 'Samanantar' was a risky experiment to test the waters, and now I can confidently claim that we struck the target, mission accomplished, and God has been incredibly gracious to us.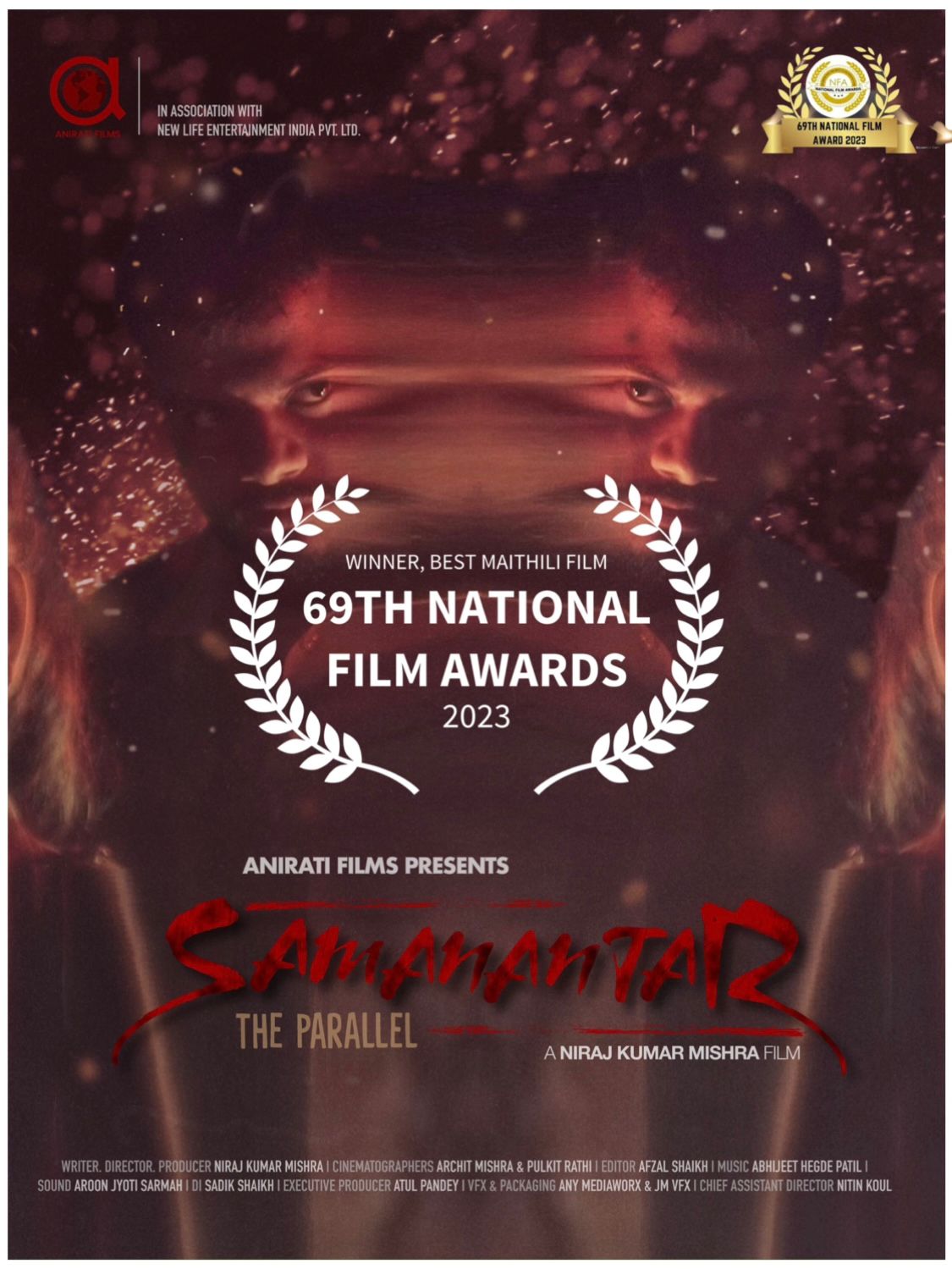 You mostly cast non-professional actors in the film.
Yes, only 2-3 actors in the film are the ones who have been pursuing acting professionally. Most of the people, who have acted in the film, faced the camera for the very first time. One of the characters in the film has been played by my father who had no experience in acting, he is a retired bank officer; another senior character is a retired lawyer, and he is fantastic in the film. As a director, I can confidently say all the actors in the film played their parts very well.
You self-financed 'Samanantar'. What is the biggest challenge you faced while making the film?
From procuring the equipment to getting the right people on board, everything was a challenge. Most of the technicians who worked on the film were individuals who had just finished college. A lot of the scenes were shot in the night at remote locations. We had to work with very limited resources. The entire team, however, was full of energy. The local residents and authorities have been very supportive throughout.
'Samanantar' is an anthology featuring four different stories. In India, we still don't make a lot of anthology films.
Furthermore, most in our industry believe that anthology implies an entirely different writer and director for each story; for me, it was one ideology intertwined with each story. We must make the process as simple as possible. The audience enjoys anthologies; even me as an audience; its' an exhilarating while swinging through different emotions, geographies and characters.
In comparison to other films, the process of writing the script for 'Samanantar' was significantly different. Because I was an independent filmmaker with minimal resources, I had to resort to reverse engineering. First, I looked for available locations and resources. I started working on the story after finalizing the resources that were accessible and affordable. Fortunately it worked out well for us.
What kind of plans you have for the film?
We intend to make it available as soon as possible. Because of the film's subject matter and philosophy, audiences of every demographic will be able to connect, which is why I believe it should be seen by everyone.