India's top poker players of Bollywood lineage throw hands to give compassionately and raise funds for 'Project Rahat Covid : an initiative by the Shri Hriday Narain Dhawan Charitable Trust'.
Here's a novel way that a group of Bollywood folks and some of India's top poker players will engage in to help in the Coronavirus Pandemic. Poker High for Project Rahat Covid is a stay-at-home poker tournament slated for the 30th of may at 6pm, with 30 percent of the proceeds going to Project Rahat Covid, raising money for hospital beds in Unnao district of Uttar Pradesh, India's largest voting constituency.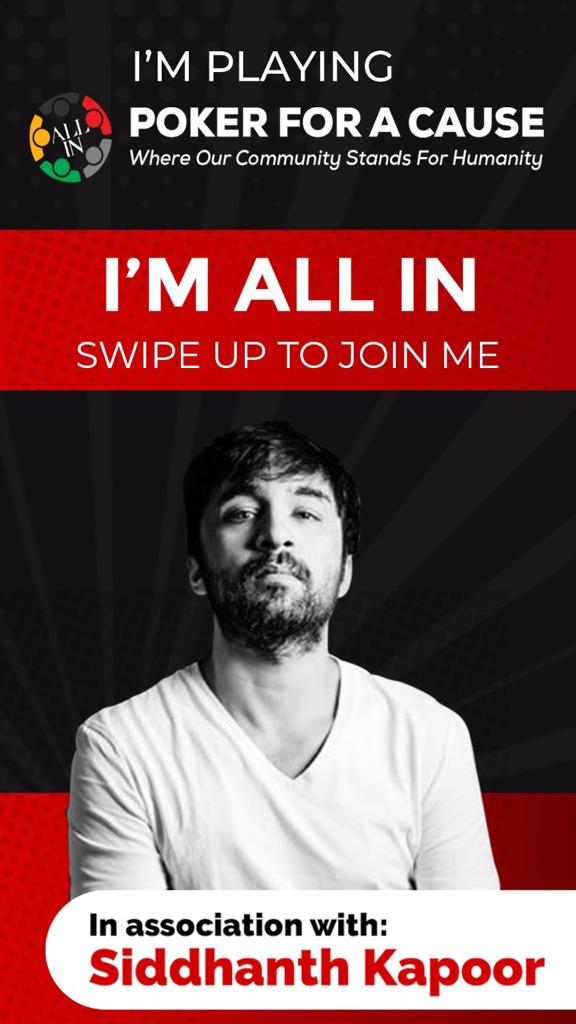 Siddhanth Kapoor said, "Let our community give back to Humanity in a big way." Celebrities like Harshvardhan Kapoor, Anita Hasandani, Raj Kundra, Sikander Kher amongst others are sharing their support in solidarity.
Harsh Kapoor stated, "proud of Siddhanth and poker high for doing this, also I love the game and will be playing this tournament".
Bollywood unites for humanity allowing the assimilation of our star studded game environment pitting itself against some of the top amateur poker players from around the country. The game is open to all poker players, but even observers will get to interact with some high-level card players with Bollywood pedigree. Participants from various poker platforms and many high-level pokerhigh players will be taking part.
Gaurav Gaggar from pokerhigh said "In these troubled times we at pokerhigh are very thankful for Siddhanth Kapoor to support our poker for a cause initiative by amplifying this fundraiser tournament across board. We are also grateful to all players who are participating and doing their part to help make hospital beds in Unnao UP."
In these testing times, we're happy that the Poker high team has reached out to support our efforts for the people of Unnao and Uttar Pradesh, we wish them the best of luck for their upcoming tournament. Said Shaalin Tandon, Trustee – Shri Hriday Narain Dhawan trust.
Further more Harman Baweja said "Siddhanth can bluff you on the poker table, scare you on screen but he will always win your heart with his actions. Good luck and a big thank you, to him and the team on raising funds for the humanitarian crisis we are faced with today."
Pranav Premnarayen added " In these testing times, a truly novel example of how the poker Community is coming together and working for Humanity"
The game of the night will be Texas hold 'em, which is: Two cards, known as hole cards, are dealt face down to each player, and then five community cards are dealt face up in three stages. The buy in is rupees 1500 with 450 going to charity and the house takes in zero rake. The game will be hosted by Siddhanth Kapoor, one of India's hot up and coming Bollywood stars, and it all gets underway at 6pm on the 10th of May. Those who want to take part can do so online through www.pokerhigh.com