Are men protected by law from sexual assault?
Are only women who can be subjected to gang rape?
As a man, how do you really fight it out in the court of law in absence of any section to protect you?
These, and a lot more questions are put forth by first time directors Gunveen Kaur and Robin Sikarwar, who produce 376 D along with Aasit Shah and open up a Pandora's box. These are of course uncomfortable questions and there is always a risk of a film turning out to be a docudrama instead of a feature film for commercial viewing. Of course, given the subject of the film, 376 D does turn out to be a niche outing which has released exclusively on ShemarooMe, the OTT platform. However, scratch the surface and it does turn out to be thought provoking indeed.
The film stars newcomers for whom this is their first major outing. Vivek Kumar and Naman Anand play brothers who live in Delhi and are content with their lower middle class life. However, when they are subjected to a rape attempt, their life goes topsy-turvy. After the initial bout of guilt and shame, a decision is taken when pushed by Vivek's girlfriend (played by Deeksha Joshi). They approach cops [Raghvendra Tiwari – loud] but they are turned away. Reason? Section 376 D (that deals with gang rape) exists, but it is only for women. There is none for men.
This is what forms the crux of the tale, even as public prosecutor [Sumit Singh Sikarwar, also an advocate in real life] puts forth his arguments whereas the defense [Priyanka Sharma, super confident] turns the whole story upside down. For the judge [Shuddho Banerjee, very interesting] who is listening to both sides of the argument, this is a never-heard-before hearing. Whether he would be able to arrive at a right decision and that too in the gambit of law takes 376 D to its eventual conclusion.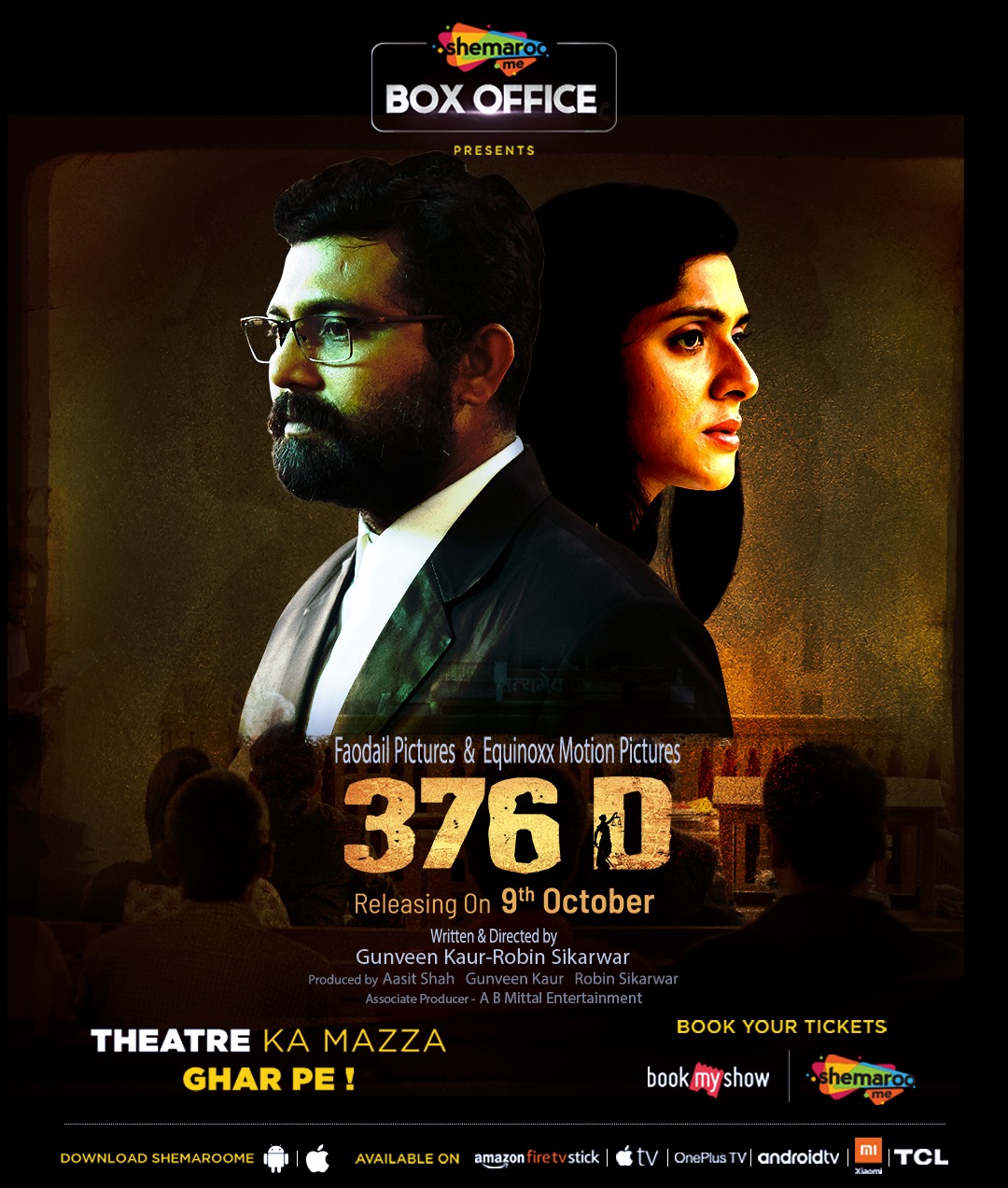 One has to give it to Gunveen and Robin to have explored a new subject altogether. If comparisons are to be drawn to similar court room dramas, one would instantly recollect Pink and last year's Section 375. Of course these were far more polished products and were also driven by big bucks. Moreover, there was star power in there as well, what with Amitabh Bachchan and Taapsee Pannu leading the show in the former and Akshaye Khanna and Richa Chadha joining Meerra Chopra for the latter. In this case, it's the coming together of several NSD actors.
No wonder, the budget of the film is restricted and that shows, especially in the first half when the premise is set for a hard hitting second half. The film does stay on to be realistic but that also means that visually it isn't much appealing as you get a small screen feel. Moreover, though the intent was right to get all newcomer actors, it turns out to be a bit of an overwhelming experience for Vivek Kumar to carry the first half entirely on his shoulders. He is supported by Deeksha Joshi who is marginally better while Naman Anand is sweet in his short role.
However, the best is reserved for the second half and this is where both Gunveen and Robin are in complete form. They are also joined by Sumit, Priyanka and Shuddho who put their best foot forward in making the drama run quite well for an entire one hour. Typically, court room affairs can get draining if not treated well. However, that set up is actually the strength of the film as there are quite a few technicalities that are explored in the conversations that ensue, hence turning out to be an eye opener for the viewer. The conclusion too is just apt.
Eventually, you do get answers to the questions that are raised in the film, though one has to admit that the dilemma would have still remained had the protagonists been in a slightly different situation (watch the film and you would know then). Would the law still have been applicable? Would the protagonists have got justice? Will there eventually be a change in law?
There are a few more uncomfortable questions that you ask yourself as well, even hours after the film is through. That is in fact the biggest win of 376 D.