Producer: Vijay Galani
Director: Abbas-Mustan
Starring: Akshay Kumar, Bobby Deol, Kareena Kapoor, Bipasha Basu
Music: Anu Malik
Lyrics: Sameer
Singers: Udit Narayan, Alka Yagnik, Kumar Sanu, Sonu Nigam, Sunidhi Chauhan & Adnan Sami
Audio on: Tips
Number of Songs: 7
Reviewed by: Mandeep Bahra
Reviewer's Rating: 6.5 out of 10

---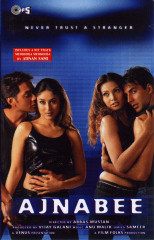 This album is not a total dud, but it is hardly one of Anu Malik's best. After wowing us with REFUGEE, FIZA and AKS, this album is almost a step back for Malik. The opening bars of the first track, "Mohabbat Naam Hai Kiska" play like an homage to previous Abbas-Mustan films. It begins with a violin solo a la "Baazigar O Baazigar" and the music for the opening lines is very reminiscent of the title track from SOLDIER. However, the tempo soon quickens and what emerges is a pleasant, if not predictable, love song. Alka Yagnik asks several questions about the origin of love and is answered by Udit Narayan with a multitude of metaphors.
The next song, "Mehbooba Mehbooba", is being touted as the big chartbuster of the album as it is sung by current craze, Adnan Sami. The track's opening dramatic music is a straight lift from the background score of the Hollywood flick, BATMAN, leading to a heavy dance beat. Adnan doesn't sound as good as he usually does and has real trouble handling the higher notes. Maybe any small weaknesses in Adnan's vocals are just overly highlighted because Sunidhi Chauhan seems to glide through the song effortlessly. Remixes on film albums have become popular after "Kambakth Ishq" (PYAAR TUNE KYA KIYA) and "Rama Rama" (LOVE KE LIYE KUCH BHI KAREGA). While these two remixes enhanced the original tracks, the remix of "Mehbooba Mehbooba" just kills the original. One wonders why a remix was even needed, seeing as the original has such a great dance beat anyway.
Hats off to Kumar Sanu for grabbing the best song on the album for himself! "Meri Zindagi Mein Ajnabee" is instantly appealing with an incredibly catchy tune (for the chorus and verses). It is vaguely reminiscent of "Chura Ke Dil Mera" from MAIN KHILADI TU ANARI. Sunidhi Chauhan adds pure electricity to the song with her sizzling rendition leaving Kumar Sanu struggling to make an impact. The music arrangement incorporates some effectively used tabla samples that are a delight to the ears. Definitely one to rewind!
"Mujhko Neend Aa Rahi Hai" will probably have you saying the same thing while listening to it. The song isn't a complete loss, mainly due to good singing from Sunidhi Chauhan and Sonu Nigam, and the familiar tune (a rehash of "Neend Udh Rahi Hai" from KUCH KHATTI KUCH MEETHI). However, your ears end up listening with anticipation for music that never seems to 'kick in'.
"Kaun Main, Haan Tum" is interesting for a number of reasons. Firstly, Anu Malik has ripped off R.D.Burman's classic 'glass-clinking' sound from "Chura Liya.." and used it for the opening of this track, and as the background accompaniment for the chorus. Secondly, the tune is taken from KUCH KHATTI KUCH MEETHI as well. Listen to Alka Yagnik's nonsensical ranting at the beginning of "Khud Bhi Naachungi" and you'll know what I mean. The similarity is subtle but noticeable. Finally, the four main leads of the film, Akshay Kumar, Bobby Deol, Kareena Kapoor and Bipasha Basu, have been roped in to mouth literally two words each! Why go to so much bother? I'm sure Udit Narayan and Alka Yagnik would have been able to manage the words, "..kaun main, haan tum, bas tum, oh-fo.." (phonetic spelling), as well as the rest of the song. Nevertheless, the song is not totally without appeal.
There's no excusing the cacophony that's masquerading as 'music' in the next track. "Kasam Se Teri Aankhen, Aiya Re Aiya" starts with African tribal beats – no problem – but the song degenerates as Sonu Nigam and Udit Narayan belt out the idiotic lyrics. The female vocals are credited to Alka Yagnik and Sunidhi Chauhan. However, it sounds more like Alka and Hema Sardesai. It's difficult to tell as both singers have about two lines each. I'm sure Hema won't mind being miss-credited on this dreadful track.
Things don't get any better with the 'dull as door nails' track, "Jab Tumhe Aashiqui Maloom". Even Kumar Sanu can't save this song from being the nation's cure for insomnia!
Finally, there's an instrumental 'Dance music' track that would be alright if it weren't for the repeated phrase, "Welcome to hell. The dance for the new millennium", that is spewed out at various intervals.
This film (supposedly a remake of Consenting Adults) had better be spectacular because the music isn't going to help much. I have a feeling though, that the audience may end up being the 'stranger' because, lets face it, indianized version of such a bold theme will have to toned down substantially.