One actress who has definitely carved a niche as one of the best actresses in Bollywood is Deepika Padukone. Daughter of ace badminton player Prakash Padukone, Deepika has been excelling in her acting career. This dusky beauty never misses a chance to flaunt her slim figure in a saree.
Deepika Padukone is a true fashionista and there's no denying that! She has managed to rock everything from glamorous gowns to traditional lehengas. While at it, Deepika has made quite a reputation when it comes down to playing dress up in some of the most stunning drapes.
1. Deepika Padukone In Blue Saree
Ravishing is the word! Deepika's look in Yeh Jawaani Hai Deewani was effortlessly chic. She stunned everyone when sported this simple royal blue saree for the famous Badtameez Dil song.
2. Deepika Padukone In Floral Saree
Deepika owns her fair share of outfits from Sabsyasachi Mukherji's collection. She wore this exquisite net saree with a high neck floral blouse during one of her appearances on Comedy Nights With Kapil. The high bun and the statement earrings complement the saree well.
3. Deepika Padukone In Chennai Express Saree
Decked in a traditional South Indian pattu saree, Deepika does a gorgeous job of carrying it off. Perhaps it might be because she, herself, is a South Indian! The accompanying bangles, necklaces, headpiece, and earrings do well to complement the saree.
4. Deepika Padukone In White Saree In Chennai Express
A white saree with red, green or gold borders in South India is usually worn at one's wedding, much like the one Deepika is seen wearing in Chennai Express. The flowers in her hair and the simple accessories are a perfect fit for this simple bridal look.
5. Deepika Padukone In Red Saree
This is a really good example of the west meeting the east. You wouldn't conventionally consider it, but honestly, a crop top as a blouse is kind of a genius idea and Deepika shows us just how amazing it looks! The floral crop top (or blouse) along with the beautiful red net saree is a daring, yet elegant look. Add big dangling earrings and your look is complete!
6. Deepika Padukone In White Embroidered Saree
Deepika has kept it absolutely simple for this next look. She is wearing a pretty white georgette saree with a sequined blouse. The saree seems to have some embroidery work done so that it appears on Deepika's torso. This work is continued on the border and pallu as well.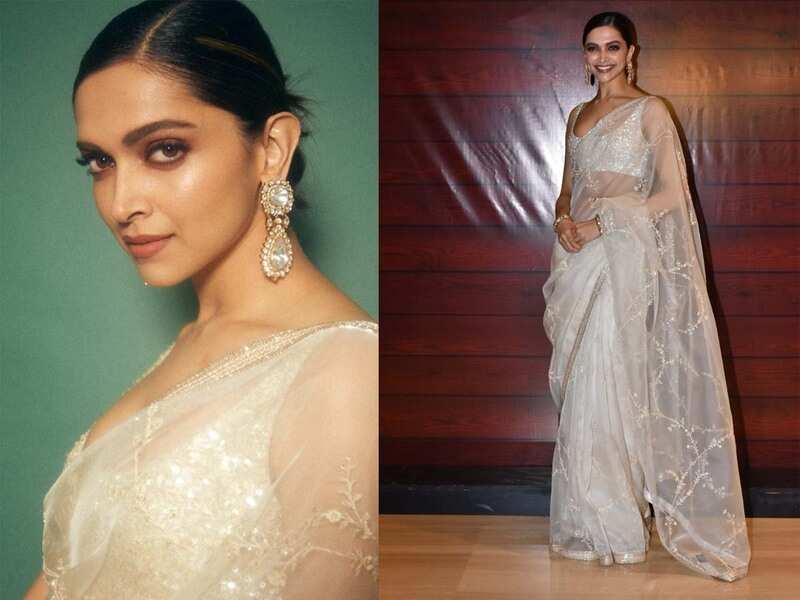 7. Deepika Padukone in Embellished Pink Silk Saree
Deepika looked stunning as she donned a pink Banarasi silk saree. With statement neckpiece and sleek bun, she looked no less than royalty in the elaborate creation.
8. Deepika Padukone In Pink Saree
This is a gorgeous color and Deepika does absolute justice to the saree. The design is quite classy. It is something that you could probably see on women back in the 70s and 80s. Deepika is the prime example of upholding old fashion trends while making them look brand new. This magenta saree with gold embroidery is a definite eye catcher. The pattern follows throughout the saree and the blouse as well. The matching lipstick shade and the addition of the earrings complete the look.
9. Deepika Padukone In Pastel Saree
This was Deepika's outfit for the Bajirao Mastani promotions in Jaipur. She certainly dressed for the occasion. The saree may look simple, but it's actually quite detailed. If you look closely, you can see tiny mirrors in each of the diamond patterns. Mirrors are used in sarees to reflect light and when tiny mirrors are used all over the saree, such as the ones in Deepika's saree, it transforms something simple to a grand attire. The entire saree is mostly designed with pastel shades. There is even more detail at the front of the saree, where the pleats fall. We see that there are motifs over netted fabric. Her earrings are the perfect addition to the look.
10. Deepika Padukone In Black And White Saree
Deepika dazzles us all every single time she steps outside. Her sense of fashion is commendable. Of course, credits go to her stylist as well! This time, she went monochrome, while adding a little twist to the traditional cotton saree. Both the blouse and pleats of the saree are plain black, but the torso portion and the pallu are the real eye catchers! The Rajasthani choker necklace does well to add a little something and complete the look. Although this saree is a printed cotton one, she makes it look ready for the red carpet! That's Deepika for you, folks!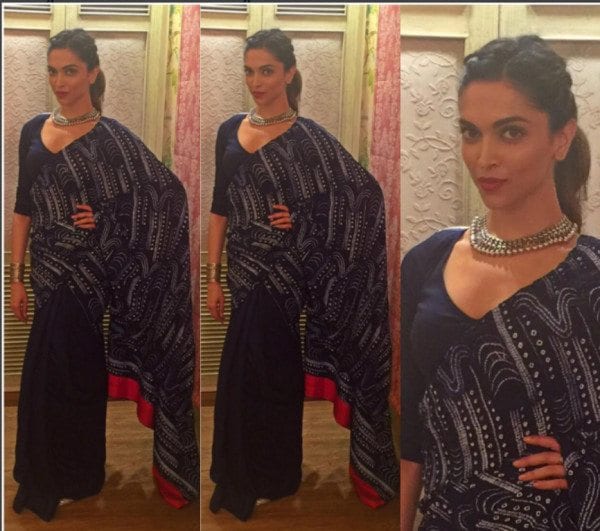 11. Deepika Padukone In A Net Saree
Deepika is wearing a gorgeous pastel green net saree. This is another outfit she wore to a Bajirao Mastani promotional event. The concept of using a bright floral pattern for the blouse is a brilliant one! The see-through fabric of the saree on the floral pattern looks lovely. This is what brings the outfit together, since the rest of the saree is not that grand. The torso and the pallu are adorned with beautiful stones and there is also some embroidery work on the borders. The simple addition of the earrings makes this entire look a perfect red carpet outfit.
12. Deepika Padukone In Green Saree
Doesn't it look like Deepika has a painting wrapped around her? I love the print of the saree. That is what brings this look to life. Apart from the floral print, this silk saree is plain, but Deepika is wearing it with grandeur. She breathes life into every single outfit she wears.The blouse is strappy and sequinned, which adds a bit of sparkle to the outfit. Her messy bun and earrings are the icing on the cake! This is such a classy, elegant look, and never go out of style!
13. Deepika in Green Silk Saree
She is someone who can even make green colour work for all occasions. How gorgeous is this jade green silk saree? Deepika paired this beautiful creation with a full-sleeved balloon blouse and finished her look with minimal makeup
14. Deepika in most beautiful Red Saree
Deepika looked every bit royal in a red Banarasi saree by ace designer Sabyasachi and we just can't take our eyes off! A statement necklace, winged eyeliner and a bright shade of red lipstick just upped her fashion ante.